PRESERVING OUR SACRED HERITAGE
Scroll Down for Roof Construction Updates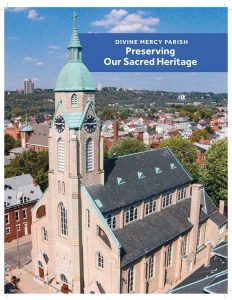 Above is a one minute video of our First Friday Young Adult Candle Light Mass with a 20 voice choir that took place on March 1, 2019.  There where over 150 young adults in attendance.
Our CAMPAIGN BROCHURE details our needs and shows pictures of the damage.  It outlines the historic significance of our parish, provides our financials and how we intend to meet these needs.
Our  CAMPAIGN THERMOMETER can be seen by viewing our latest parish BULLETIN, which tracks our progress.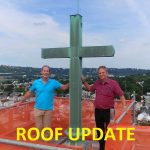 Contribute online or set up automatic online payments to help in Preserving our Sacred Heritage by clicking the donate button.
There is a small fee charged to the parish for online contributions (2.75% for credit cards and 0.9% for using your checking account online).
Or you may mail a check (write "roof" in the memo) to:
Divine Mercy Capital Campaign
318 Division St.
Bellevue, KY 41073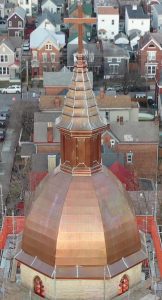 Please consider filling out a PLEDGE SHEET to send in to our parish office.  If you start with what you can give this year and then consider if you could make a similar gift each year for the next 4 years, this enables you to make a 5 year pledge that can help us reach our goal more quickly.  We need to have all of the money raised through pledges (with half in cash on hand) to begin each phase.
You may also enjoy watching a 16 minute historical video of Sacred Heart Church: dmsbcatholic.com/divine-mercy/history/
While there have been some unforeseen delays to the completion of the work, we are nearing the end of our first phase to redo our roof and the copper of our bell tower. THIS MEANS THE BILLS ARE COMING DUE.
As you can see from the itemization below, we need 1.1 million to pay for our beautiful new roof and bell tower.  We are hoping to collect the balance needed to avoid paying interest on a loan.
Please continue to pray for our campaign to "Preserve our Sacred Heritage."
PHASE ONE: ROOF & BELL TOWER ITEMIZATION
Roof replacement
slate will be replaced with a 50-year commercial grade shingle
  $434,685
Upper and lower roof snow rails
$5,250
Small chimney removal & decking
$6,500
Rebuild 2 small entrance slate roofs
$10,250
Replace all copper on the bell tower
$380,670
Base bid for Main Contractor
$837,355
Roof Decking Repair at $5.75/sq ft
$0.00
Change order: extra Cost for bell tower scaffolding  $32,540
Change order: Savings adjustment on gutters    -$9,500
Net change orders
$23,140
Bell tower decking repair $6.50 / sq ft
$5,482
Cleaning, tuck pointing of masonry & sealing
$123,180
Façade flashing along roof
   $28,590
Main chimney repair
   $11,950
Exterior window trim & bell tower painting
   $39,244
Replace spot lights with LED
$5,795
Replace interior bell tower roof under the bells
$13,825
Cost to lift bells, redo original supports & reinstall electrical
      $18,620
Framing for new copper Main Louvres for bell tower
$6,360
Four new copper Main Louvers for bell tower
      $32,000

costs updated as of 6/22/21

Estimated Total for Roof & Bell Tower
Monies received toward goal as of 6/22/21
AMOUNT STILL NEEDED FOR PHASE ONE

$1,145,541
$1,099,106


$46,435
(Phases 2 & 3 will address handicap accessibility and interior painting and renovation.)
PHASE ONE CONSTRUCTION VIDEOS: ROOF AND BELL TOWER
Check our our Facebook Group: https://www.facebook.com/groups/sacredheartsteeple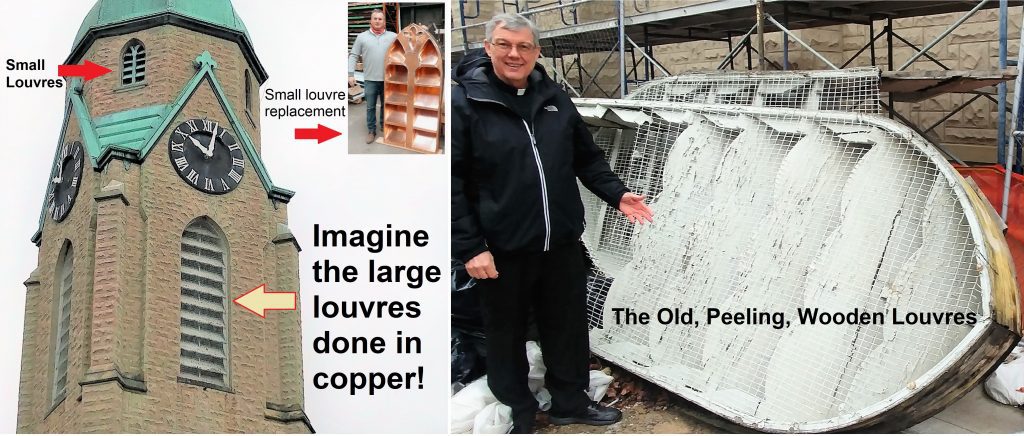 We need to raise another $38,000 to be able to upgrade the bell tower louvres to copper.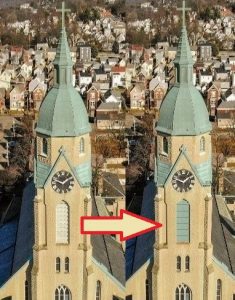 Scaffolding is going up around church and they have begun removing the old slate as of Monday, April 27. The scaffolding that will go up around the bell tower required a special engineering study and some additional costs due to the complexity of the work.
MARCH 2020  Bellevue's skyline will soon be changing!  We have awarded a contract to Imbus Roofing to replace Divine Mercy's roof and copper bell tower. Work is expected to begin in March, 2020.
The copper on our 127-year-old church was put on about a hundred years ago.  When we put new copper on our bell tower this spring, it will take decades for it to change to the current light green that has defined Bellevue's skyline for many years.