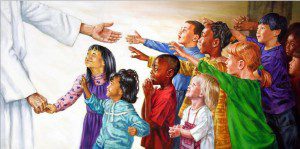 Welcome to our PARISH RELIGIOUS EDUCATION PROGRAM (PREP) website for Divine Mercy and St. Bernard Parishes!
Our parishes provide religious education, faith formation and sacramental training for children who do not attend Catholic school.  This program can also supplement the faith formation of those being homeschooled.  Children from grades 1 to 8 are welcome to attend.  We use the diocesan approved RCL Benzinger cirriculum.  We share our faith through lessons, words, actions and love of Jesus Christ.  Religion Education classes do not substitute for Sunday Mass.  Attendance at Mass is part of the Religious Education program.  Participation in the sacramental life of the Church is the very heart of our faith.
Classes are held on Tuesdays from 6:15 – 7:45 in Charity Hall.
Click to download a REGISTRATION FORM.
The greatest gift a parent can give their children is the gift of Faith and the understanding of God's Love.
For further information, please contact:  Terry Roessler  (859) 635-3006 roesslerterry25@gmail.com
or either parish office: St Bernard (859) 261-8506, or Divine Mercy (859) 261-6172.