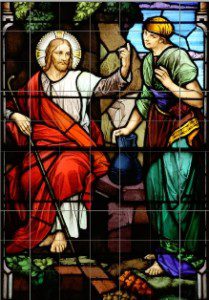 Dear Friends and Parishioners of St. Bernard Church,
St. Bernard Church is a beautiful and striking testimony to the value our forefathers placed on their Catholic faith.  They persevered in the face of floods,  financial difficulties, the depression and other setbacks.  Our parish has a long history of sacrificial giving to preserve our Catholic heritage in this community.  We are the beneficiaries of the sacrifices of previous generations.  Now it falls to us to do our part to preserve this wonderful and beautiful heritage!     SEE PRINTABLE BROCHURE
In honor of our rich and blessed heritage, in the centennial year of the first Mass said at St. Bernard Church, we   invite everyone to participate in this opportunity to celebrate and preserve St. Bernard church – a beautiful testimony of faith, that has been handed down to us.
Memorialize your family or group with a "Centennial Tile" tod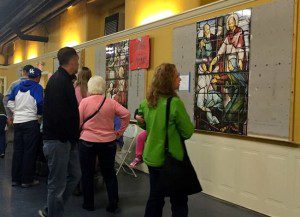 ay!

Our beautiful eight stained glass windows, depicting the "Beatitudes," and "St. Bernard," along with "The Last Supper," are being replicated in ceramic tile.  These  beautiful reproductions will be surrounded by our family names, graduating classes, and all our priests, nuns, and deacons. Your sponsoring tiles and replications will be beautifully framed works of art lining the walls in Garvey Hall (our church hall).
As you can see in the diagram below, the ceramic replicas of our stained glass windows will be surrounded by 6" x 6" tiles with four 12" x 12" corner tiles, to form a beautiful 5' x 7 1/2 ' panel.  There will be a  variety of memorial tiles available to recognize the different levels of giving.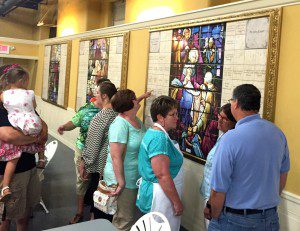 The tiles surrounding a panel for the Last Supper will be offered for either $500 or $1,000, with the four corner tiles at $5,000 each.
The proceeds from these tiles have successfully raised the funds for renovation of our hall and our new heating and air-conditioning system for the church.
Help us to "Pay it Forward!"  Invest in the bright  future of St. Bernard Church!  Help us renovate our hall and put air-conditioning our church, while memorializing your family in the process!
Order your Memorial Tile today to be sure you get the one you want!  Forty Percent of them have already been sold as of May 27/2016.
$ 100 "Centennial"    6" x 6" Beatitude tile
$ ____ "Religious"    contribution to help pay for priests and nuns tiles around St. Bernard*
$ 500  "Disciple"       6" x 6" Last Supper tile
$1,000 "Steward"      12" x 12" Last Supper Tile
$2,500 "Apostle"       12" x 12" Beatitude distinctive corner tile.
$5,000 "Evangelist"     12" x 12" Last Supper distinctive corner tile.
$10,000+"St. Bernard Legacy" – Contact pastor
* A suggested amount is $50 to $200, but any amount is welcome to offset the cost of honoring our past priests and religious in our parish.  No need to indicate a name.  They will all be listed.