Return to Main Page for Capital Campaign to PRESERVE OUR SACRED HERITAGE
ITEMIZATION OF COSTS for our Roof and Bell Tower (Phase One)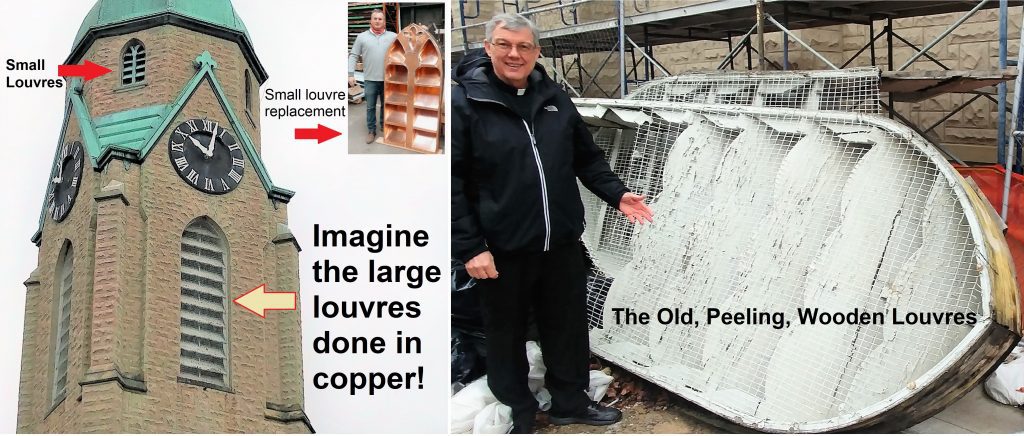 We need to raise another $38,000 to be able to upgrade the bell tower louvres to copper.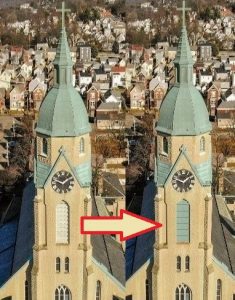 APRIL 2020  Scaffolding began going up around church and they began removing the old slate as of Monday, April 27. The scaffolding for the bell tower required a special engineering study and some additional costs due to the complexity of the work.
MARCH 2020  Bellevue's skyline will soon be changing!  We have awarded a contract to Imbus Roofing to replace Divine Mercy's roof and copper bell tower. Work is expected to begin in March, 2020.
The copper on our 127-year-old church was put on about a hundred years ago.  When we put new copper on our bell tower this spring, it will take decades for it to change to the current light green that has defined Bellevue's skyline for many years.
Return to Main Page for Capital Campaign to PRESERVE OUR SACRED HERITAGE