This picture shows what is allowed and not allowed at St. Peter's Basilica in Rome.  This gives us an idea of what the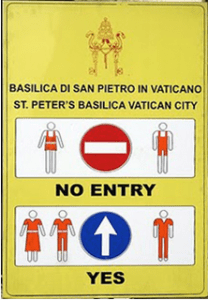 minimum expectation is with regards to modest attire for Sunday Mass.  The articles listed below offer some worthy points to consider.
When we come to worship the living God, shouldn't we dress better than we do for a picnic or a ball game?
The Mass is the Wedding Feast of Jesus, the King of the Universe, with us, His bride. It is also the Memorial Celebration of His death. People dress up for weddings and funerals out of respect for the solemnity of the occasion. Dressing up for Sunday Mass shows that we understand the true nature and solemnity of this celebration, which is the foundation, source, and summit of our Christian life. A simple guideline is that, if you wouldn't think of wearing something to a wedding or a funeral, you probably shouldn't wear it for Sunday Mass.
…Also see: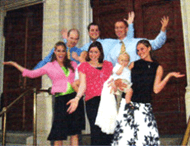 …Worship the Lord in Holy Attire
….Gents, Let's Dress up for Mass!