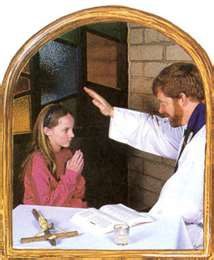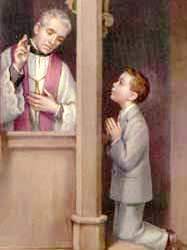 Lord, help me to trust in your love and mercy, and to confess my sins.


You can go to confession

face-to-face or behind the screen
Steps to a Good Confession:
Carefully examine your conscience.
Be really sorry for your sins.
Make up your mind to not sin.
Decide to avoid whatever leads you to sin.
Tell your sins to the priest.
Make the Act of Contrition when asked.
Receive absolution.
Do the penance the priest gives you.
Suggested Dialogue:
The priest welcomes you.
You start by saying: "Bless me Father, for I have sinned. It has been ________ since my last confession."
Tell the priest your sins and then say:
"For these and all my sins, I am sorry."
The priest gives advice and a penance.
The Act of Contrition:
My God, I am sorry for my sins with all my heart. In choosing to do wrong, and failing to do good, I have sinned against You, whom I should love above all things. I firmly intend, with Your help, to do penance, to sin no more, and to avoid whatever leads me to sin. Our Savior Jesus Christ suffered and died for us. In his name, my God, have mercy. Amen. (Receive absolution.)
Priest: Give thanks to the Lord, for He is good.
You say: His mercy endures forever.
Go back to your pew and do your penance.


God's Commandments help us to know if we have sinned:

HONOR GOD
You shall not have other gods before Me.
___ Have I prayed my morning prayers and night prayers?
___ Is there something in my life that I love more than God? (video games, computer, TV, friends, sports…)?
___ Have I been moody and rebellious about praying or going to Sunday Mass?
___Have I paid attention and been respectful during Mass and other prayers?
___ Have I fooled around in church or talked in church when I shouldn't have?
HONOR GOD'S NAME
You shall not take the Name of the Lord your God in vain.
___ Have I used God's Name in anger?
___ Have I used bad words?
___ Have I been disrespectful toward religious things (like a cross or rosary) or religious people (like priests and nuns)?
HONOR GOD'S DAY
Remember to keep holy the Lord's Day.
___ Have I missed Mass on Sunday or a Holy Day of Obligation when I could have gone?
___ Has my behavior made it difficult for my parents to get to church on time?
BE OBEDIENT
Honor your father and your mother.
___Have I disobeyed, talked back to, or shown disrespect for my parents, teachers, elders, or babysitters?
___ Have I obeyed promptly and without getting upset or complaining?
___ Do I follow the rules at home or school?
___ Am I lazy about chores or homework?
___ Am I hard to get along with (at school, at Grandma´s, at home)?
BE KIND AND TRUE
You shall not kill.

___ Have I done anything that might hurt myself or someone else?
___ Have I been mean to people or to a pet?
___ Have I lost my temper or fought with anyone?
___ Have I been unwilling to forgive people?
___ Do I try to get along with my brothers and sisters?
___ Have I hurt someone else's feelings on purpose?
___ Have I encouraged anyone to do bad things or helped them do bad things?
___ Have I wished for bad things to happen to anyone?
BE PURE IN ALL I SAY AND SEE AND HEAR AND DO.
You shall not commit adultery.
___Have I kept my mind & body pure?
___ Have I touched myself or another person in a bad way?
___ Have I watched bad TV shows, movies or bad things on the Internet?
___ Have I looked at bad books or pictures, listened to or told bad jokes or stories?
BE HONEST
You shall not steal.
___ Have I stolen any money or things?
___ Have I borrowed something without asking permission?
___ Have I returned what I borrowed?
___ Do I tell an adult when I break or damage something?
___ Have I cheated in on my homework or tests, or helped someone else cheat?
BE TRUTHFUL
You shall not lie.
___ Have I told lies?
___ Have I broken a promise on purpose?
___ Have I made up untrue stories about someone, to hurt them?
9 & 10. BE PURE IN ALL I THINK AND DESIRE. BE SATISFIED, NOT JEALOUS
You shall not covet your neighbor's wife or your neighbor's goods.
___ Have I taken good care of my things? (clothes, books, desk, toys, games, bicycle…)
___ Have I been selfish? Unwilling to share my things with my family, friends and those who have less?
___ Have I been jealous of the friends, things, or abilities that someone else has?
___ Do I get mad when I have to share my friends with others?
___ Have I nagged my parents to buy things because my friends have them?
___ Am I grateful for what I have?