IS BAPTISM NECESSARY FOR SALVATION?
View 11″x14″ printable brochure for the Biblical Basis of Baptism
.
View 11″x14″ printable brochure for Infant Baptism
Click one of the links above to see what the Bible has to say.
Baptizing Your Baby
"Holy Baptism is the basis of the whole Christian life, the gateway to life in the Spirit, and the door which gives access to the other sacraments. Through Baptism we are freed from sin and reborn as sons of God; we become members of Christ, are incorporated into the Church and made sharers in her mission." Catechism of the Catholic Church (CCC) 1213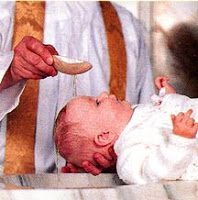 "Parents are obliged to take care that infants are baptized in the first few weeks" after birth. (canon 867.1)
"An infant in danger of death is to be baptized without delay." (canon 867.2)
Anyone can baptize when there is a danger of death by pouring clean water over the head while reciting the Trinitarian formula: "I baptize you in the name of the Father and of the Son, and of the Holy Spirit."
Our Catechism reminds us that: "parents would deny a child the priceless grace of becoming a child of God were they not to confer Baptism shortly after birth." CCC, 1250
Before the baptism of their first child, parents are asked to attend a preparation session for this sacrament. Please contact the parish office to make arrangements.
Listen to this homily by Fr. Mitch Pacwa.
Fifteen minutes in he affirms: "I GET REGULAR PHONE CALLS FROM PEOPLE ON RADIO AND TV, WHO ARE… (SAYING), "MY KIDS WILL NOT BAPTIZE THEIR KIDS! I RAISED THEM IN THE FAITH, AND THEY DO NOT (BAPTIZE THEIR OWN CHILDREN).
THE MORE I HEAR THIS… (THE MORE) I AM BEGINNING TO UNDERSTAND… THAT THEIR CHILDREN DO NOT HAVE FAITH THAT CHRIST CAME TO SAVE THEIR OWN CHILDREN FROM HELL.
IF THEY THOUGHT THAT THAT WAS A RISK, LIKE ANY PARENT THEY WOULD DO ANYTHING POSSIBLE TO PREVENT THEM FROM EXPERIENCING THAT KIND OF HORROR AND PAIN. NO PARENT WANTS THEIR CHILD TO GO THROUGH HORROR AND HATRED. NO PARENT WANTS THEIR CHILD TO BE DESTROYED. BUT TODAY WE HAVE A LOT OF PARENTS WHO DO NOT THINK THAT HELL IS REAL.
AND INTERESTINGLY ENOUGH, THERE IS A LARGE MAJORITY OF PEOPLE WHO DO BELIEVE IN THE DEVIL AND THEY FEAR HIM BUT THEY DO NOT THINK THAT HELL MIGHT BE A REAL POSSIBILITY. AND GOD OUR LORD DOES.
SO REAL IS IT AND SO GREAT A DANGER THAT HE SENT HIS SON INTO THE WORLD TO SAVE US FROM IT. HE THINKS THAT SAVING OUR SOULS FROM HELL IS SO WORTHWHILE THAT HE SENT HIS SON…"
Choosing Godparents (Sponsors)
BEFORE you ask anyone to be a godparent for your child, please read carefully the
Sponsor (Godparent) Requirements
Godparents must meet all of the requirements and a Sponsor Certificate must be properly filled out for each godparent.
Baptisms are usually performed after the last Sunday Mass, or after the Saturday evening vigil Mass. They may also be performed during any of the Sunday Masses (including the vigil Mass on Saturday evening).
You may wish to read "Baptism for Your Baby" which examines the teaching of Sacred Scripture and the Catechism of the Catholic Church. For a fuller explanation about Catholic teaching on baptism, please go to the online section of the "Catechism of the Catholic Church on Baptism," or read the U.S. Bishops' explanation of Baptism and RCIA.
Choosing a Name for your Child
The name you choose for your child should not be foreign to Christian sensibility (canon 855). A name gives an identity to your child that they will carry for a lifetime. While not required, many Catholics choose to name their children after a saint of the Church. This could be either their first or second name. Consider these reasons why you may wish to consider naming your child after a saint:
A saint's name will help to foster your child's Christian identity.
They will receive the special aid of their Patron Saint (like a second guardian angel).
It will give your child a special Feast Day to celebrate (the Feast Day of their saint).
Their own name will remind them of God and his love for them, through the help of this saint.
It will help your child to personalize their faith.
It will give them a role model to follow.
It will remind them to seek heaven above all else (to become like their saint).
It will help to establish a Catholic Christian culture in your home.
Baptism for Non-Infants (age 7 through adulthood)

In the Roman Catholic Church, a child may be baptized according to the rite for infants up through age 6. When the child reaches the age of reason however (age 7), they begin to be able to make choices between right and wrong. At this point, the Church feels that they should be involved in the process of their initiation. Therefore, they are no longer baptized as infants, and for the sake of Christian initiation, are treated as adults. Their formation follows the same pattern as outlined in the Rite of Christian Initiation for Adults (RCIA), with age appropriate adaptations for their instruction. They will need to be enrolled in Catholic religious education for at least two years, and then would receive baptism, confirmation, and Eucharist at the Easter Vigil, along with the adults who are being baptized at that time. For more information on this process, see our section on "How Can I Become Catholic?".
Becoming Catholic (Rite of Christian Initiation of Adults)

The Rite of Christian Initiation for Adults (RCIA) is the normal process by which one becomes Catholic, once the age of seven has been attained. RCIA is the Church's way of initiating new members or completing an initiation that has been interrupted. Non-Catholics are also invited to attend and explore more deeply what Catholics believe.
You can also READ STORIES about other people's journey to Catholicism
RCIA is for:
Those who desire Baptism.
Baptized non-Catholics who want to learn more about what Catholics believe and who may, or may not, want to become Catholic.
Those baptized Catholic who have not received further Catholic training, or sacraments.
Click here to learn more about the Catholic Faith.
For more information read the full section on "How Can I Become Catholic?"