Since 2009, St. Bernard Church has been pleased to host student priests from India, who are working on getting their Masters Degree in Education.  Pictured below are the priests who have lived and served at St. Bernard Church, while getting their degree.  Xavier University offers them free tuition and we offer them lodging in exchange for their help in saying Masses.  Afterwards, they return to India, often to be principals of large schools.
These are priests of the Missionary Society of St. Thomas the Apostle (MST), of the Syro-Malabar rite, which is in full communion with the Roman Catholic Church.  This means that Roman Catholics may attend a Syro-Malabar Catholic Mass, the same as they would a Roman Catholic Mass, and go to Holy Communion.  The Syro-Malabar Mass is referred to as "Holy Qurbana" (the word "Qurbana" means "Sacrifice" or "Offering").  When the Indian priests come to study at Xavier, while living at St. Bernard Church, they need to learn to say Mass according to the Roman Rite, and receive faculties from our Bishop, so that they can say Mass in our parishes while they are here.  Here is an explanation from Wikipedia:
"The Syro-Malabar Catholic Church… or Church of Malabar Syrians is an Eastern Catholic Major Archiepiscopal Church in full communion with the Pope. It is one of the 23 sui iuris Eastern Catholic Churches in the Catholic communion. The Church is headed by Major Archbishop Cardinal George Alencherry of the Archeparchy of Ernakulam-Angamaly in Kerala, India. The members of the Church are known as Mar Thoma Nasranis or Syrian Catholics. It is the largest of the Nasrani denominations with around 4.6 million believers and traces its origins to the evangelistic activity of Thomas the Apostle in the 1st century.
"The Syro-Malabar Church follows the East Syrian Rite liturgy, traditionally attributed to saints Addai and Mari, which dates back to 3rd century Edessa, and like the Chaldean Rite is a Syro-Oriental Rite. It is the second largest Eastern Catholic Church, the largest being the Ukrainian Catholic Church. It is one of the two Eastern Catholic Churches from India, the other being the Syro-Malankara Catholic Church which follows the West Syrian Rite liturgy."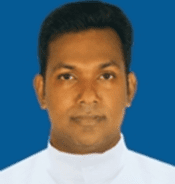 Fr. Babu Kurian, MST stayed at St. Bernard from 2009 – 2011.
Now he is Principal of Santhome Public School in Mumbai, India.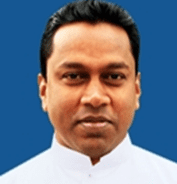 Fr. Joe Anson, MST stayed at St. Bernard from 2011 – 2012.
Now, he is  Principal of Mary Matha School in Chiplun, Maharashtra, India.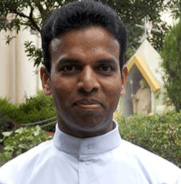 Fr. Jayaprasad "Fr. Prasad" Joseph, MST stayed at St. Bernard from 2012 – 2014.
Now, he is a Professor at Ruhalaya Major Seminary in Ujjain, M. P.,  India.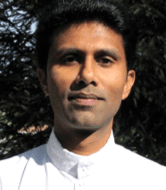 Fr. Bijumon "Fr. Biju" Joseph, MST stayed at St. Bernard from 2014 – 2016.
He just returned in February, 2016 to work in a school in India.